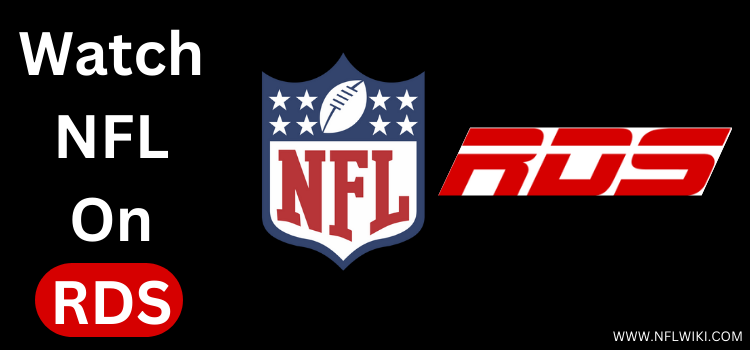 The National Football League is the most viewed American football league worldwide. The 104th season of the NFL kicked off on September 7, 2023.
However, the viewing records will break on February 11, 2024, which is the NFL's finale, the Super Bowl LVIII.
Canadian fans can watch the NFL on Réseau des Sports (RDS), a Canadian specialty channel in the French language that focuses on sports programming.
Unfortunately, you can only enjoy RDS in Canadian territory due to geo-restrictions. However, we suggest using ExpressVPN to overcome the restrictions and to watch NFL on RDS in any other country.
ExpressVPN also offers 3 Months Free on top of a 12-month plan ($6.67/mo). It also provides a 30-day money-back guarantee as well.
---
How to Watch NFL on RDS
RDS is a premium Canadian French-language sports channel that broadcasts live local and international sports. It is an excellent channel for sports lovers looking for ways to watch sports in French language. 
Unfortunately, RDS is only available within Canada, and you cannot watch the NFL on RDS outside the territory unless you use an advanced VPN like ExpressVPN. 
Follow the steps below to watch NFL on RDS:
Step 1: Download ExpressVPN (our #1 VPN choice) on your device
Step 2: Subscribe to ExpressVPN using your credentials
Step 3: Connect to the Canadian server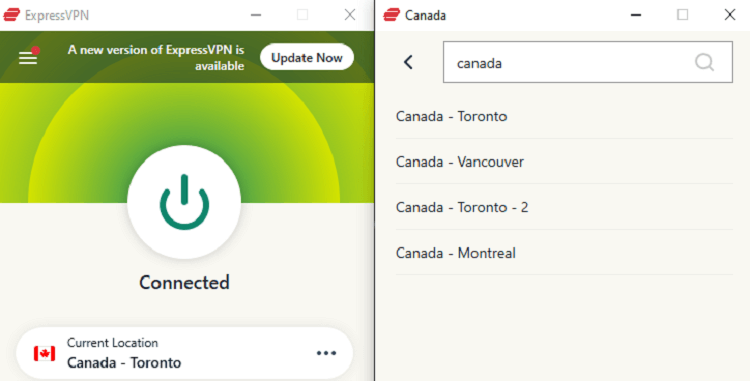 Step 4: Open the RDS website and click on En Direct to watch live streaming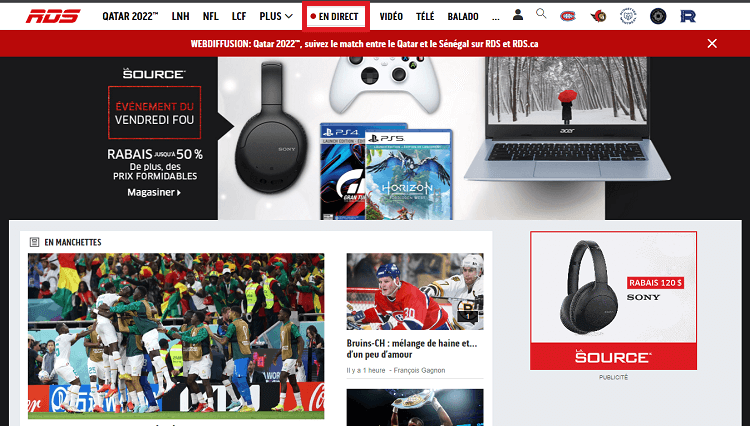 Step 5: Scroll down and select RDS 2 channel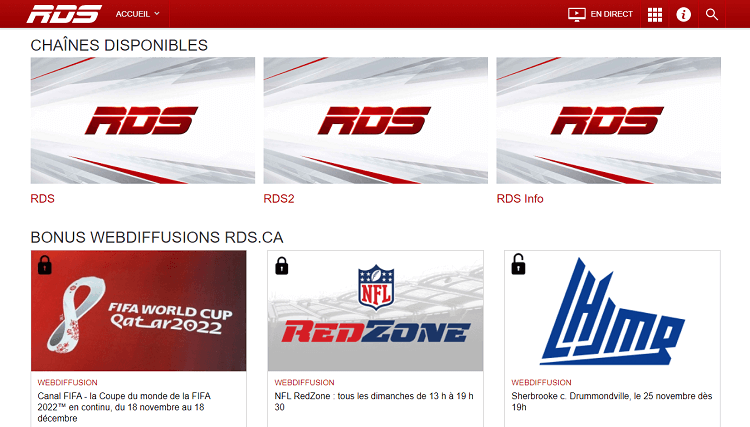 Step 6: Click on Se Connecter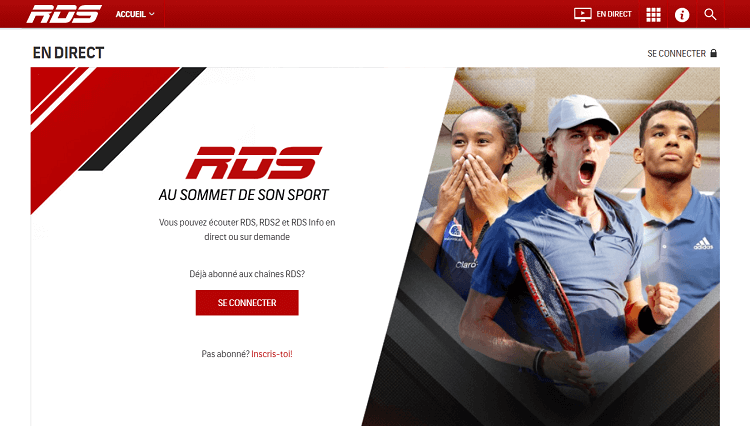 Step 7: Log in with your account or with your TV provider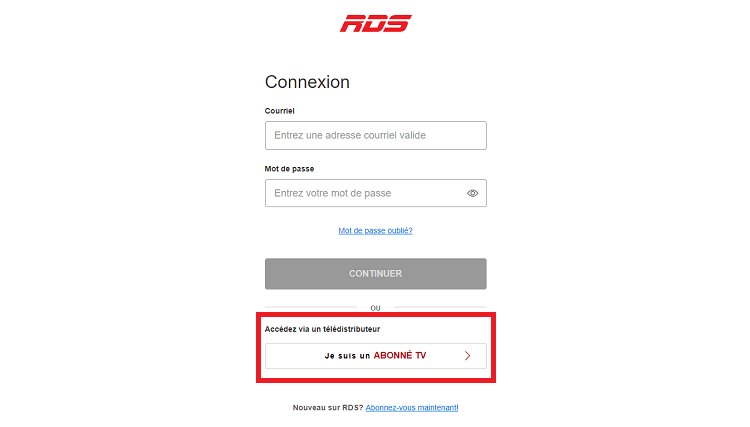 Step 8: Log in with the TV provider, e.g., Bell Media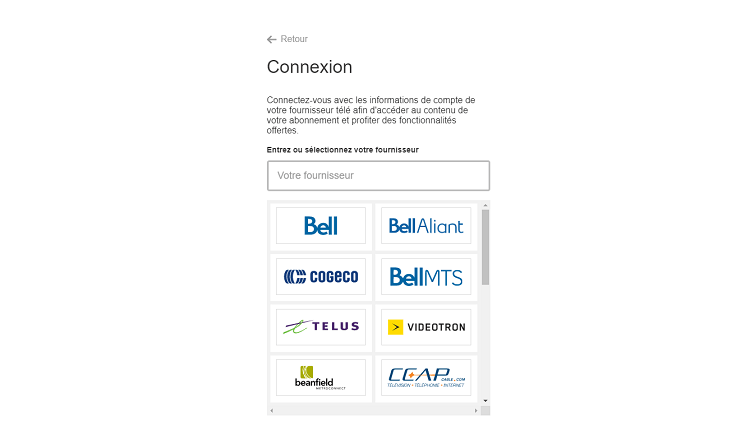 Step 9: Enter your Bell Media account's credentials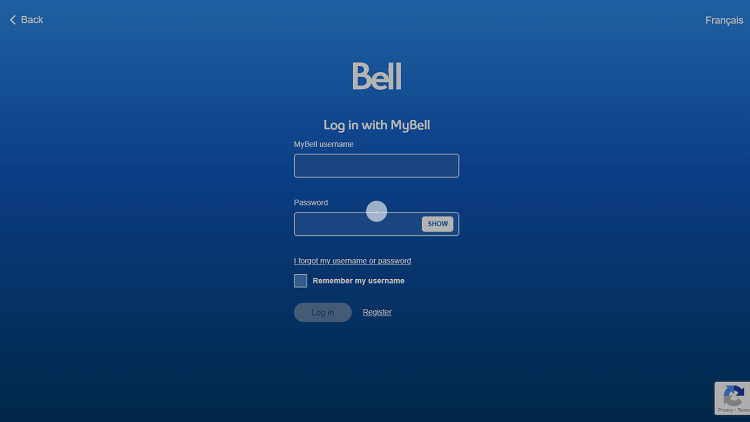 Step 10: Enjoy streaming!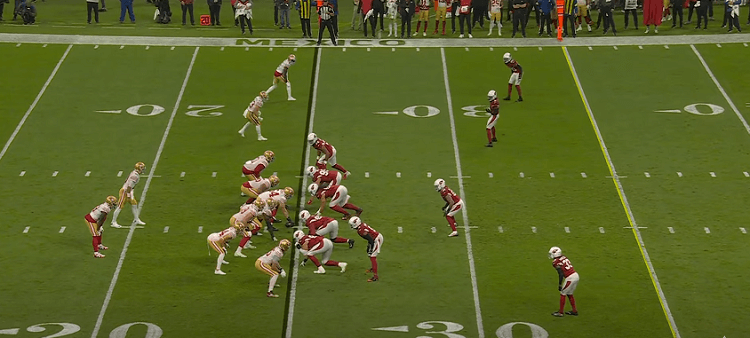 ---
How to Subscribe to RDS
RDS is a premium sports channel available only in Canada. To watch sports on RDS, you must subscribe to the packages available on the channel using your valid email ID, phone number, & payment information.
RDS accepts all cards, such as MasterCard, Credit Card, Debit Card, Visa Credit Card, Visa Debit Card, American Express Credit Card, and American Express Debit Card.
You can also watch sports on RDS by logging in with your TV provider. RDS is available with several Canadian TV providers. The following are the TV providers that offer RDS:
Bell Media

Bell Aliant

Cogeco

Bell MTS

Telus

Videotron

BeanField

Cooptel

Nexicom

NorthernTel

Start Canada
Follow the easy steps below to subscribe to RDS:
Step 1: Open the RDS website and click on the Profile Icon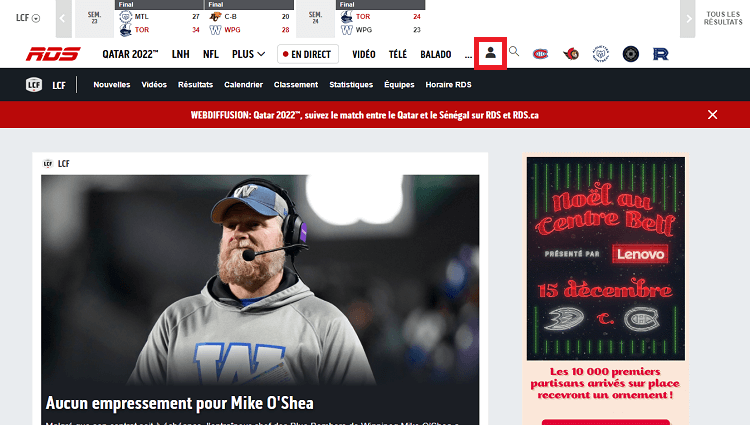 Step 2: Click on the icon and select Se Connector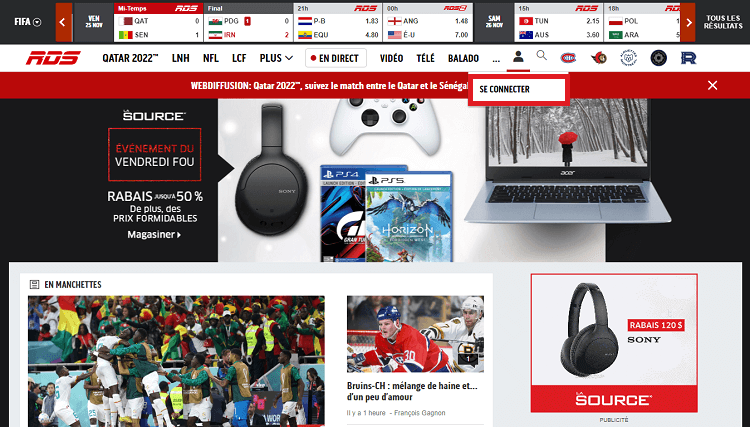 Step 3: Enter your email if you already have an account, or click on subscribe now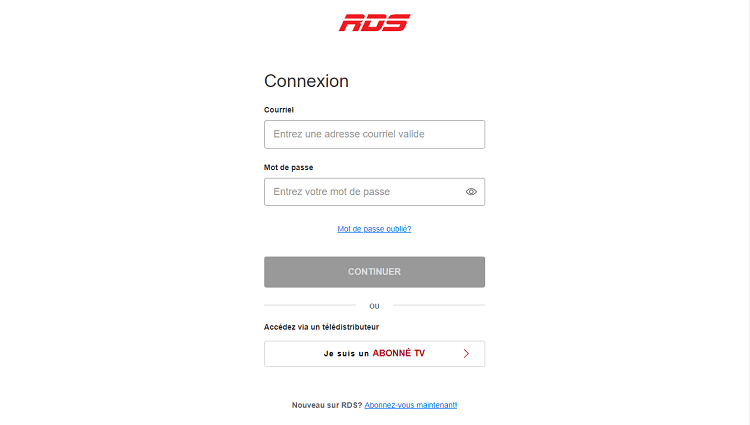 Step 4: Enter your valid email address & phone number to create your account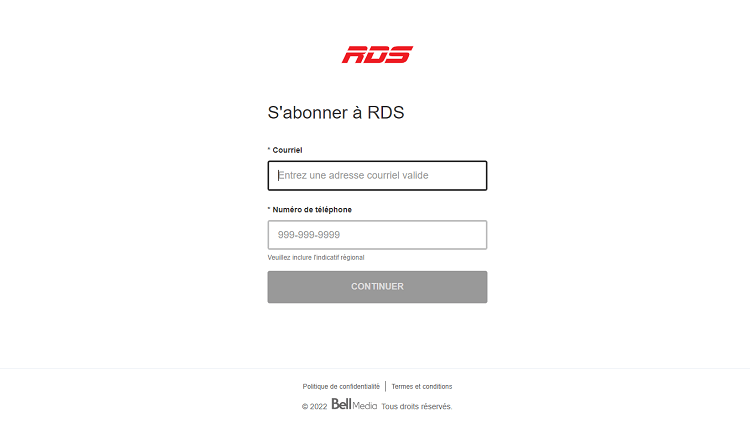 Step 5: Create a secure password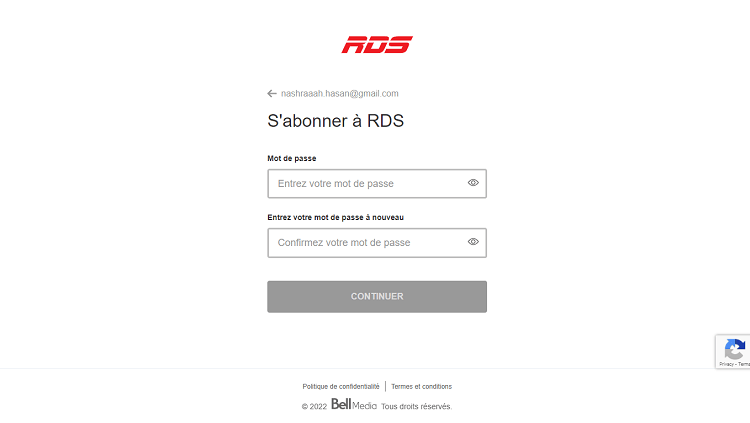 Step 6: Choose your subscription plan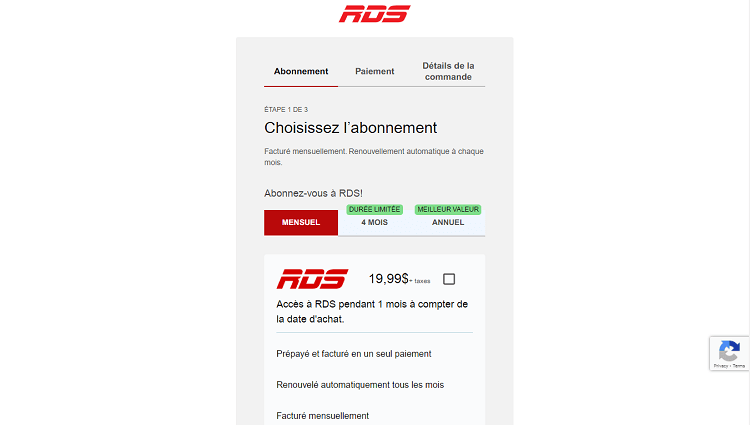 Step 7: Choose your payment method, enter your valid card details, and confirm your subscription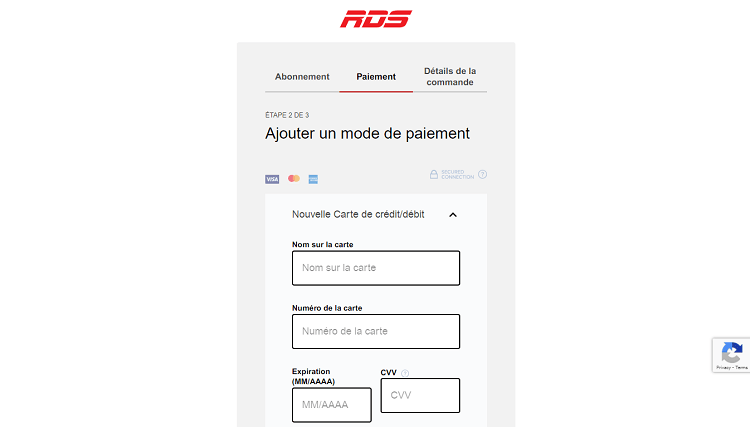 ---
RDS Pricing and Packages
RDS is a premium sports channel that offers a subscription-based streaming service, RDS En Direct. You must buy its subscription if you want to enjoy live sports streaming on RDS Direct. 
The following are the subscription packages of RDS and the features they offer:
1. Monthly Access Plan
The RDS Direct offers a monthly plan to enjoy exclusive sports content on RDS, RDS 2, and RDS Info channels. The plan regularly costs $19.99 + tax per month. (at $9.99 for the first 3 months and at regular price thereafter).
This plan allows you to enjoy live sports, highlights, analysis, commentary, news, and several sports shows.
2. Annual Access Plan
The last but not the most petite bundle for enjoying NFL on RDS Direct is the annual plan available for $119.90 + tax/per year.
The plan offers everything that the other RDS Direct plans offer, such as live sports, sports highlights, and analyses with this plan. News, commentary, and various sports programs.
---
What Other Sports Can You Watch on RDS?
RDS is a Canadian specialty sports channel that offers sports in the French language to its subscribers. The channel also provides RDS Direct, a streaming platform that offers 3 channels RDS, RDS 2, and RDS info.
All these channels provide live streaming of all the major national and international sports events in Canada, such as Football, Boxing, Cricket, Basketball, Rugby, Cycling, etc. 
You can watch the following sports on RDS:
FIFA World Cup Qatar 2022

The National Football League 2022 (NFL)

Montreal Football Club

National Hockey League (NHL)

Boxing

Canadian Football League

Formula 1

Major League Basketball (MLB)

National Basketball Association (NBA)

Tennis

World Championship

Olympic Games

Sports Divers

Quebec Games

Quebec Major Junior Hockey League (QMJHL)

American Hockey League

Ligue de Développement du Hockey M18 AAA

Soccer

Golf

Boxing

UFC

NASCAR

Rally

IndyCar

E Formula

Curling

Ski

Extreme Sports

Ligue 1

Bundesliga

LaLiga

Premier League

Europa League

Series A

Major League Soccer

World Junior Ice Hockey Championship
---
Other Channels to Watch NFL 
RDS has official broadcasting rights to broadcast live NFL in Canada. However, you can also opt for several other premium channels and services as well
The following are some of the channels where you can watch almost all the NFL games live:
Watch NFL on G-Sports

Watch NFL on Spark Sports

Watch NFL on Mola TV

Watch NFL on Sport 5

Watch NFL on Coupang
---
Devices that Support RDS
The official RDS app & website are compatible with most streaming devices. RDS also offers a streaming service called RDS En Direct which is also compatible with many streaming devices.
However, since RDS is only officially available in Canada, we suggest using a trusted VPN like ExpressVPN to unblock RDS on any device anywhere. The following are the devices supported by RDS:
Mobile
Android Phones

 (Android version 7.0+)

Android Tablets (Android version 7.0+)

iOS

Phones

(iOS version 11.0+)

iPad devices (iOS version 11.0+)
Streaming media players
Gaming Console
Smart TVs
Browsers on Computer
Chrome 58+

Firefox 52+

Internet Explorer 11+

Edge 14+

Safari 10+
---
FAQs – RDS
What is RDS En Direct?
RDS En Direct is an on-demand subscription service that gives sports fans access to live RDS, RDS2, and RDS Info channels, as well as on-demand video clips of interviews, highlights, and other information. 
Can you watch the NFL on RDS En Direct?
Yes, RDS Direct offers the RDS 2 channel, where you can watch live events of every NFL game that the channel will air.
How many NFL games can you watch on RDS?
You can watch almost all the NFL games on RDS, such as Sunday Night Games, Tuesday Night Games, Thursday Night Games, Friday Night Games, and the Super Bowl.
Can you watch the Super Bowl LVIII on RDS?
You can watch the live Super Bowl LVIII on RDS on  February 11, 2024, in the French language. RDS owns the streaming right to the NFL finale in Canada.
Can you get RDS Direct in the United States?
Unfortunately, no. RDS and RDS Direct are only available officially in Canada. To watch the NFL on RDS in the United States, you will have to use ExpressVPN, which can overcome the restrictions.
---
Conclusion
RDS is a Canadian sports channel that streams live NFL, highlights, news, scores, and sports shows in French.
To watch RDS live without cable, you must subscribe to the premium streaming service RDS EN Direct. It offers all RDS channels, including RDS, RDS 2, and RDS Info.
However, Canada is the only country where RDS is available. To watch the NFL on RDS from anywhere, you must use a trusted VPN provider such as ExpressVPN that can unblock the channel in any region.