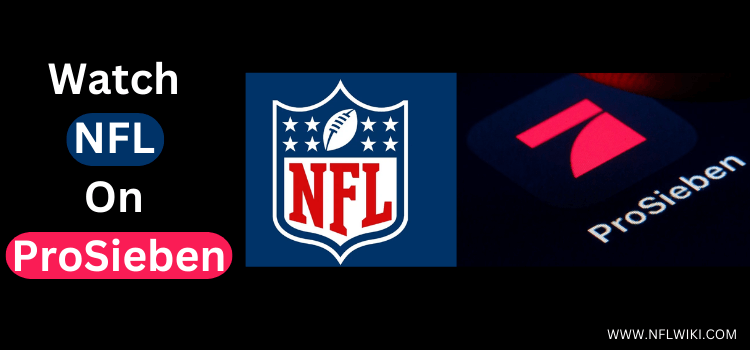 Update: The broadcasting rights of the NFL in Germany have been shifted from Proseiben to RTL group from 2023. Now DAZN and RTL Group will broadcast the NFL in the German region.
The National Football League has started its 103rd session in the US. The season will take place until February 2023, when the League's finale is scheduled. The Super Bowl 2023 will be on 12 February 2023 at State Farm Stadium in Glendale, Arizona.
The NFL fans are excited to see which team will make it to the Super Bowl this year. Fans all over the world can enjoy the complete NFL madness on the official streaming partners' websites. 
German fans can watch up to 57 NFL games live for free on ProSieben. In addition, you can also watch the games on ProSieben's sister company ProSiebenMaxx, and the internet as ran.de. 
Three NFL games will be live every Sunday at 6 p.m. during the regular season. You can watch NFL games on ProSieben, including the Super Bowl and playoffs.
The only downside is that ProSieben is only officially available for streaming in Germany due to licensing agreements and content ownership. However, if you want to enjoy the games in other countries, you need a trusted VPN, such as ExpressVPN.
ExpressVPN is our recommended VPN to unblock any geo-restricted streaming site in any region. You can also stream on free websites without worrying about compromising your privacy because it can hide your streaming activity from the ISP.
---
How to Watch NFL on ProSieben?
If you are looking for ways to watch the NFL for free and official means, then we recommend ProSieben. ProSieben is a German free-to-air television network that will livestream 57 NFL games. 
However, you can only stream ProSieben in Germany. We recommend using a reliable VPN like ExpressVPN to watch the network in any other region.
To watch the NFL on ProSiben, follow the steps below:
Step 1: Download ExpressVPN (our #1 VPN choice) on your device
Step 2: Subscribe to ExpressVPN using your credentials
Step 3: Connect to the German (e.g., Frankfurt ) server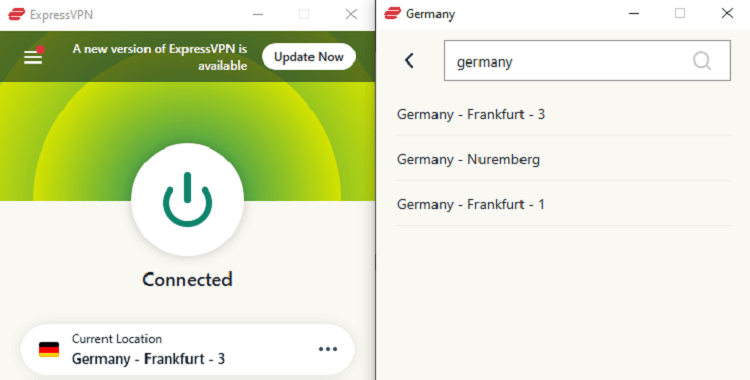 Step 4: Open the ProSieben website and click on Broadcast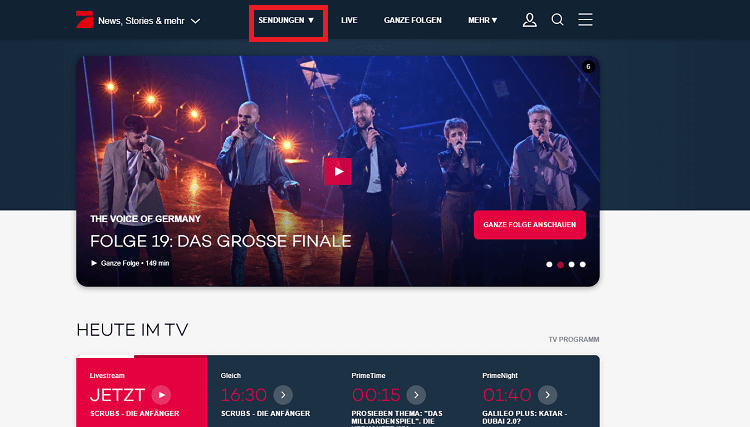 Step 5: Choose Ran Football from the list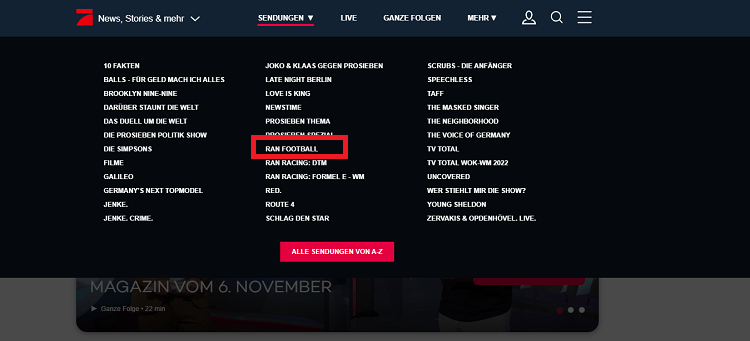 Step 6: Scroll down and choose live streaming of the NFL game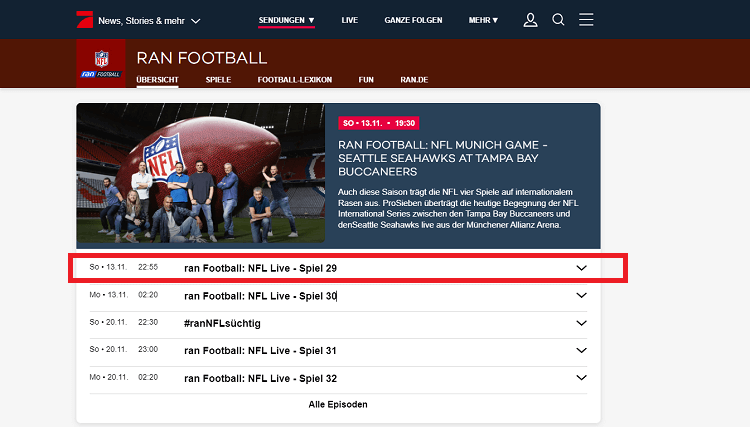 Step 7: Register your account by entering your email or using your Gmail or Facebook account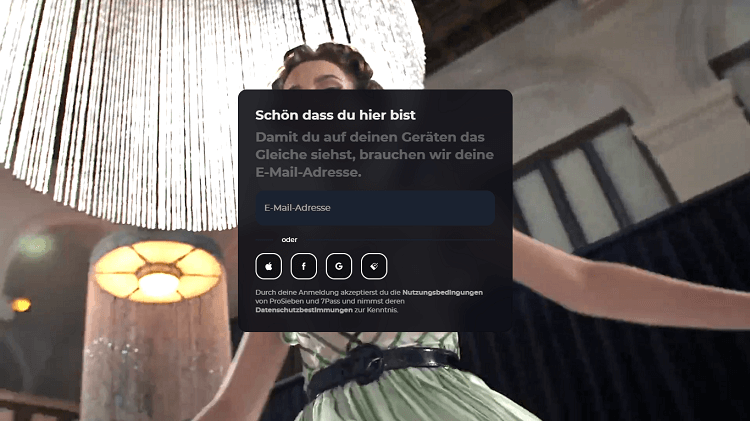 Step 8: Enjoy streaming!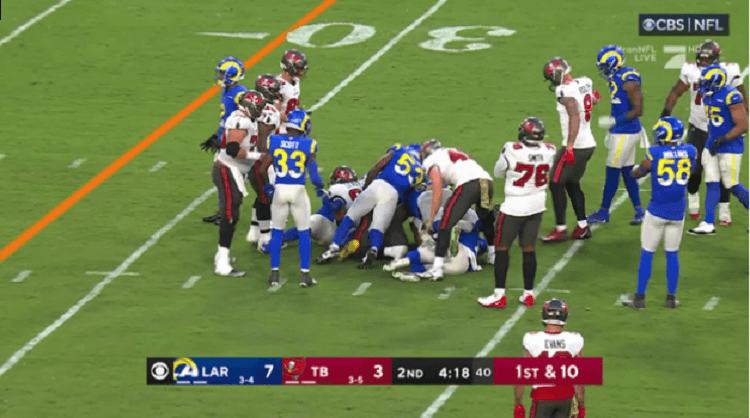 ---
How to Register to ProSieben
Since ProSieben is a free-to-air TV network, you won't go through the lengthy and costly process of subscribing to the channel using your payment information. However, before you watch NFL on ProSieben, you must register yourself.
The registration process is simple and easy. However, it has some technical pre-requisite. Follow the steps below to register yourself on ProSiebe:
1. Make ProSieben Believe that You're in Germany:
The first thing you need to do once you have opened the ProSieben website is to make it believe that you are from Germany. You receive the location error message when you attempt to stream ProSieben content outside of Germany. 
The content only being accessible to users in Germany or, more specifically, only being accessible by users with a German IP address. Since ProSieben is a geo-restricted channel, you cannot stream it anywhere outside Germany. 
You need to subscribe for an ExpressVPN subscription to obtain a German IP address. Since ExpressVPN is a highly regarded VPN service provider and offers full refunds, you may cancel your subscription within 30 days and get your money back. 
ExpressVPN works with all your devices and can be used on several devices simultaneously so that the entire family can use it simultaneously with only one subscription.
---
2. Register Your Free Account
Once you have your VPN setting in place and have connected to the German server, it's time to register your account on ProSieben. Creating an account on ProSieben is simple and free. 
You must create a user account by clicking the user icon in the website's upper right corner. You can begin the process by entering your email address and using your Facebook, Google, or other social network accounts to log in.
You can use a similar method to register your account on ProSieben on multiple devices, such as Android phones, Smart TVs, iOS devices, etc. However, for them, you will first need to install the official ProSieben app on your device.
---
What Other Sports Can You Watch on ProSieben?
ProSieben is one of the most extensive German networks with official broadcasting rights to stream a variety of sports programs. If you are wondering where you can watch sports in Germany without paying a subscription fee, then ProSieben is the way to go.
You can watch the following sports on ProSieben:
American Football
National Football League (NFL)

Super Bowl

Pro Bowl

College Football

European League of Football (EFL)
Boxing
Ice Hockey
National Hockey League (NHL)
Mixed Martial Arts
German MMA Championships (GMC)
Motor Racing
Formula E

Extreme E

Deutsche Tourenwagen Miesterchaft (DTM)
Rugby Union
Rugby World Cup

World Rugby Seven Series

Six Nations Championship
Rugby League
Beach Volleyball
Techniker Beach Tour

German Beach Volleyball Championship
Wrestling
WWE Monday Night RAW

WWE Smackdown!

WWE NXT
Football
UEFA Europa League

Germany National Under-21 Football Team
Miscellaneous Games
X Games

Street League Skateboarding

Dew Tour
---
Other Channels to Watch NFL 
ProSieben has official broadcasting rights to stream 57 NFL games throughout the NFL 2022-2023, including Pro Bowl and Super Bowl. However, since ProSieben is only available in Germany and in the German language, not many people are interested.
If you don't want to watch NFL on ProSieben, then there are several other channels where you can watch the games. The following are some of the channels where you can watch the NFL:
Watch NFL on Sky Sports

Watch NFL on Star Plus

Watch NFL on ESPN+

Watch NFL on Mola TV

Watch NFL on BBC

Watch NFL on Fox Sports

Watch NFL on Saran Sports

Watch NFL on Saudi Sports Channel

Watch NFL on Spark Sports

Watch NFL on Coupang
---
Devices that Support ProSieben
There are several streaming devices where you can watch ProSieben for free. You can either use ProSieben's website on your device's browser or install the official app on your device. 
However, since ProSieben is only available in Germany, you must use a premium VPN to unblock the channel in any region. We recommend using ExpressVPN because it is compatible with almost all streaming devices.
You can watch ProSieben on the following compatible devices:
iOS Devices
Android Devices
Nvidia Shield TV
Windows
Amazon Devices
Gaming Console
Roku Devices
---
FAQs – ProSieben
Is ProSieben available anywhere other than Germany?
ProSieben is officially a German channel. However, it offers feeds in two other countries as well. You can watch ProSieben Austria in Austria and ProSieben Schweiz in Switzerland and Liechtenstein. 
How many NFL games can you watch on ProSieben?
You can watch a total of 57 NFL games live on ProSieben, including  6 Sunday games and Thursday games. You can also watch Pro Bowl and Super Bowl on ProSieben.
Can you watch Thursday Night Football Game on ProSieben?
Yes, you can watch a few Thursday Night Football games on ProSieben, such as the upcoming New York Giants and Dallas Cowboys. 
Can you watch the NFL Sunday Ticket on ProSieben?
No, you cannot watch NFL Sunday Ticket via ProSieben, as the NFL Sunday Ticket is only available through a DirecTV subscription. DirecTV is only available in the United States and is blocked in other regions.
Where can you watch NFL games for free?
Many sports and entertainment channels have partnered with NFL to broadcast the games in their broadcasting regions officially. You can watch the NFL for free on channels such as ProSieben, BBC, etc.
---
Conclusion
The NFL 2022-2023 season is in full swing, and fans worldwide are thrilled to enjoy the games. If you live in Germany, you can enjoy several live games for free on ProSieben.
ProSieben is a free-to-air channel that offers News, Movies, German programs, Foreign programs, entertainment, and Sports.
You can watch more than 50 NFL games, including Pro Bowl and Super Bowl. However, there is one downside of ProSieben. The channel is only available in Germany and is prohibited in other countries. If you want to watch NFL on ProSieben, subscribe to a reliable VPN.
We recommend using ExpressVPN as the features offered by them are unparallel. By connecting to a German server of ExpressVPN, you can stream NFL and other content on ProSiben without worrying about your privacy.