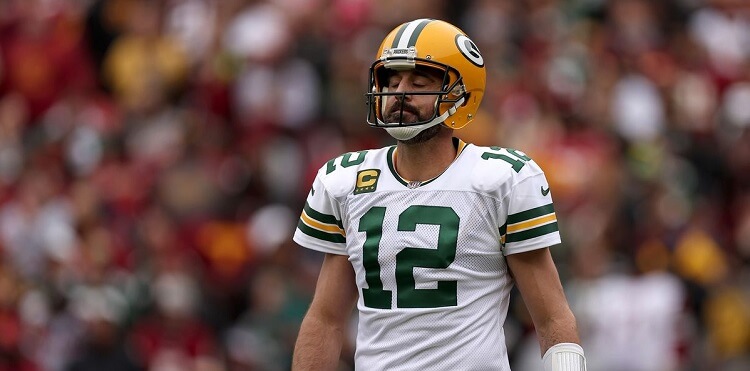 Bob McGinn, the former writer of Packers who has worked with the team for years, is claiming that the team isn't willing to work with Rodgers anymore as "they are done" with him.
Aaron Rodgers is one of the best quarterbacks that the Green Bay Packers have ever produced. However, everything is not going well between the legendary player and his team lately. 
Rodgers' chapter is closed in the team as Packers' ex-writer shares a bitter truth about their situation. The former NFL writer even said that Rodgers' return to the team is highly unlikely as they have already moved on and are "disgusted" with him.
The ex-writer stated this in a podcast of Golongtd.com with Tyler Dunne. He said,
"They are done with Rodgers," McGinn stated that he is saying all this based on his instincts, personal knowledge of the NFL league, and discussions with a close person from the team.
McGinn further said, "He's not coming back. I mean, they're disgusted with him, and they're done with him. And they're moving on."
Who Will Replace Aaron Rodgers in Packers?
Who will be the next Packers starter, if not Rodgers? McGinn also has an answer to this as he believes that Jordan Love is going to take Rodgers' place. 
The NFL writer insisted that he sees the franchise parting ways with Rodgers as the management and even players have more faith in Love rather than him.
McGinn was quite certain that even if Rodgers insisted to play, he will only get a chance in the team as a second option to Love.
Rodgers Darkness Retreat: A Threat to His Chance in Jets Inclusion
Derek Carr is young, energetic, and cheaper than Aaron Rodgers. New York Jets seem interested in both Rodgers and Carr, however, after Rodger's darkness retreat announcement, things are going really in Carr's favor.
New York jets are looking in a hurry as they have already held a meeting with Carr that went "very well" according to Connor Hughes of SNY.tv.
The Jets might also talk with Rodgers after he comes out of his four-day darkness retreat for deciding whether to play, or not play for the Packers. 
Well, bad news for Rodgers as his team has reportedly decided to dump him, anyway. The time is short for Rodgers to decide his future as Free agency begins in a few weeks.