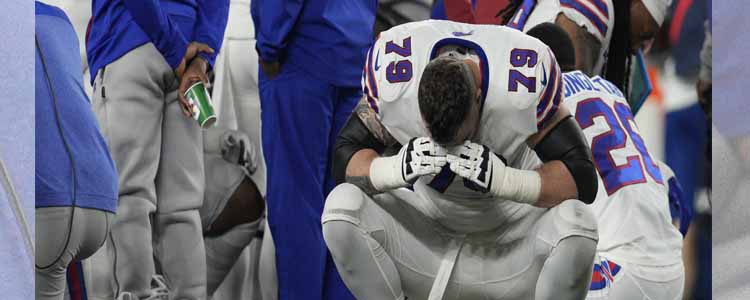 Update – Damar Hamlin show "signs of improvement" but still remains in critical condition. However, Damar will continue to remain under intensive care for the time being so that the health care team monitor his health.
Damar remains in the ICU in critical condition with signs of improvement noted yesterday and overnight.

He is expected to remain under intensive care as his health care team continues to monitor and treat him.

— Buffalo Bills (@BuffaloBills) January 4, 2023
Hamlin's childhood friend "Rodney Thomas" drove 110 miles to Cincinnati and raced to the hospital after his friend suffered a cardiac arrest.
Speaking from the Indianapolis Colts locker room Thomas said:
"I know he could hear me. Even if he couldn't hear me, it didn't matter. I said what I had to say." Reports – The Sun.
The NFL game has seen some extraordinary turn of events this month. NFL management has decided to even postpone the match after Buffalo Bills' player Damar Hamlin underwent a shocking heart attack during the game. 
The game's schedule was jam-packed and everyone was looking forward to the Buffalo Bills and Cincinnati Bengals Monday night encounter. However, the league suspended the match looking at the emotional state of the players after Hamlin's shock. 
No decision has yet been made about when the game will resume! Hamlin suffered the blow in the first quarter of the game while making a tackle and the game was immediately stopped. 
The 24-year-old was still in critical condition a day after everyone saw him collapsing during a play. Hamlin was tackling Bengal's wide receiver Tee Higgins when he fell onto the ground while playing. 
The medical staff immediately intervened and fixed his heartbeat and put him into the ambulance. His teammates were also shocked watching him fall like that. The live audience as well as the national TV viewers watched those frantic scenes when players from both sides were crying their eyes out and seeing their fellow players go to the hospital.
The match is also pushed ahead in order to regulate the sentiments of the teammates and other players. Therefore, NFL commissioner Roger Goodell immediately sent a letter to all the teams and issued a statement that stated:
"Damar experienced cardiac arrest and was promptly resuscitated by on-site club physicians and independent medical personnel, all of whom are highly trained in implementing the plans for medical emergencies,"
He further said,
"Damar was stabilized and transported to the University of Cincinnati Medical Center, a Level One trauma center, where he remains in the ICU."
NFL Teams Show Support To Hamlin On Twitter 
Not only Hamlin's fans but the whole NFL world is praying for the speedy recovery of their mate. All 32 teams have changed their Twitter profile pictures to an image that says, "Pray for Damar."They want to show support to Damar Hamlin as he is in critical condition at the hospital. 
All 32 NFL teams have now changed their profile pics to support Damar Hamlin and his recovery from cardiac arrest 🙌 pic.twitter.com/ilFtFavraN

— Outsider Sports (@OutsiderSports) January 3, 2023
Lions Players Worried About Hamlin's Health 
A wave of support erupted for Hamlin from Detroit Lions players and the other teams. All of this concern and solidarity from the NFL teams and management shows that this is more than just a game and the players are not just on-field opponents but also friends and supporters in difficult times.
Detroit Lions players also tweeted about their fellow Bills player Hamlin. 
Jason Cabinda wrote on Twitter,
Prayers up for Damar Hamlin… scary sight 🙏🏾🙏🏾🙏🏾🙏🏾

— Jason Cabinda (@jasoncabinda) January 3, 2023
"Prayers up for Damar Hamlin… scary sight 🙏🏾🙏🏾🙏🏾🙏🏾"
Another Lions player Derrick also took to Twitter,
Praying for you DHam🙏🏽🖤

— derrick (@derrickbarnes21) January 3, 2023
"Praying for you DHam🙏🏽🖤"
Lions' Levi Onwuzurike also wrote for Hamlin,
Prayers to Damar. Lord Please Protect Him🙏🏿

— Levi Onwuzurike. (@LeviOnw) January 3, 2023
"Prayers to Damar. Lord Please Protect Him🙏🏿"
Another tweet from Detroit Lions read, 
Our thoughts and prayers are with Damar Hamlin, his loved ones and the entire Bills organization.

— Detroit Lions (@Lions) January 3, 2023

"Our thoughts and prayers are with Damar Hamlin, his loved ones, and the entire Bills organization."
Read our guide on how to watch NFL from anywhere to watch the games live from any part of the world.