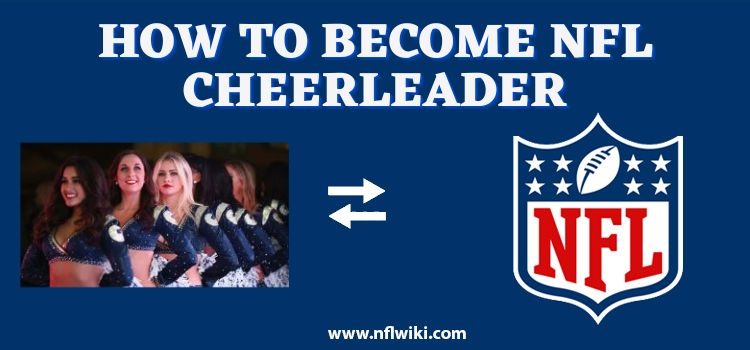 The National Football League is the most watched sports league in the United States. The NFL became famous for various reasons. The public loves the sport due to the public image the NFL cheerleaders have created.
The world of American football needs NFL cheerleaders. Cheerleaders go out on the benches to excite the crowd, make appearances, and participate in charity events, giving football clubs the public image they have today.
Cheerleading has many different levels of competition and is a very competitive sport. While some cheerleaders may travel for every game during a particular season, others may just be required to attend one or two games each week.
If you are wondering how to become an NFL cheerleader, then you are at the right spot. In our blog, we will tell you the eligibility requirements and all the steps you must take to secure your cheerleading spot with your dream team.
We will also discuss the best tips to stand out in the audition and the skills you must possess to become an NFL cheerleader.aa
---
Eligibility Requirements of Becoming an NFL Cheerleader
The NFL eligibility requirements are substantial. Make sure you pass those before applying for a part of the cheerleading squad. The following is the eligibility requirement on how to become an NFL cheerleader:
Your age should be of

18 years of age or older

You should have

a high school diploma

or a

GED equivalent

You should be

able to commit to an entire season

You should be

available for all home games

, as well as any

potential playoff games

You should be willing to

participate in weekly practices

and any other required appearances

You should be able to

pass a background check
---
How to Become an NFL Cheerleader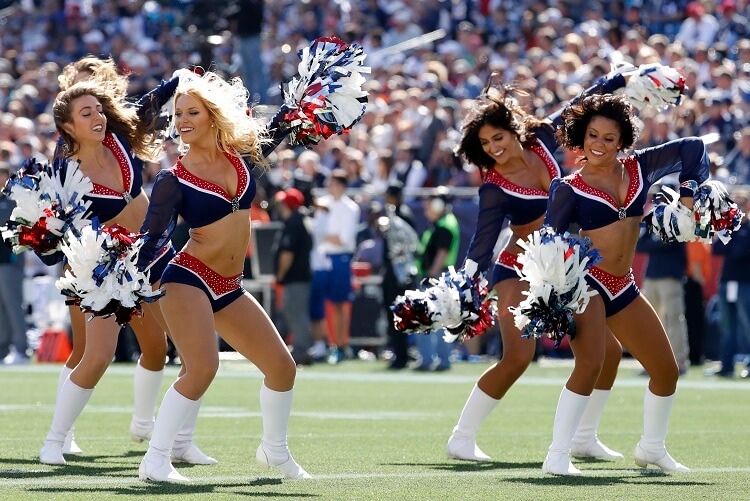 Becoming an NFL cheerleader is not an easy task. There are many factors that you need to consider and be prepared for. Everything from your attitude to appearance matters if you want to stand out in the auditions and tryouts.
The following are the step you need to take on how to become an NFL cheerleader:
1. Attend Cheerleading Workshop
The first step you should take if you are aspiring to be an NFL cheerleader is to attend cheerleading workshops. Many franchises hold official workshops to train their cheerleaders. 
For instance, the Kansas City Chiefs do three dancing workshops and four cheerleader workshops each year. These are instructed by expert cheerleaders who offer helpful advice on preparing for auditions. 
The Minnesota Vikings offer five preseason workshops to improve your flexibility, teach you how to kick high, and hone your dance moves. The Vikings also host workshops in business and beauty that feature football quizzes and interview advice.
---
2. Prepare for Audition
The preparation for the auditions is the next step. Before the big day, you need to practice and study. It is best to be knowledgeable about the background of your club, current football statistics, and the cheerleader director. 
Watch videos of your favorite team's cheerleaders to get a feel for their dancing and sense of unity. Additionally, you must eat balanced foods and engage in exercises that boost your stamina and develop your abdominal muscles.
---
3. Prepare your Body
Physical fitness is a crucial requirement for professional cheerleading. You must have the stamina to carry out activities that need high bursts of energy. You can put up with long training, performances during games, and other cheer events if you have stamina.
Regular aerobic exercise is necessary to develop stamina. Activities that increase your cardiovascular endurance, such as jogging, cycling, swimming, and plyometrics, help you handle demanding tasks.
A further quality to develop is flexibility. Being flexible enables you to execute high kicks. Performing quick and intense dancing steps helps you maintain better posture, look leaner, and prevent injuries.
Join a yoga or Pilates class to increase your flexibility. Barre exercises are yet another excellent choice.
---
4. Prepare your Image
Once your body is in shape, it's time to maintain your image. Decide on your makeup and clothing. You're appearance matters if you want to become an NFL cheerleader. Making the judges think you'd be an excellent match for the squad should be your key focus. 
You should start by looking up the required attire for the audition day on your team's website. Candidates for cheer teams must enter the first round dressed in a fancy crop top or two-piece and dance shoes.
It could be necessary to dress more conservatively for the interviews. See what the candidates from the previous year were wearing. On the official page of your team's website, you can see the audition images.
To give judges a good picture of how they would appear in the team uniforms, some teams encourage candidates to dress in a way that highlights their team colors.
Makeup colors that go well with your skin tone should be used. Check the cheerleaders for your team's current "look" as well. Remember that some professional cheerleading squads have a distinctive lip color. View their most recent images to be on the safe side.
---
5. Prepare your Hair
Preparing your hair should be your next step after outfit and makeup. Bouncy hairs are one of the major requirements to become an NFL cheerleader. Your hair dramatically influences your performance. 
The last thing you want is hair that is difficult to manage and doesn't move with you while you dance because nearly all cheer performances contain a hair throw.
In addition, an excellent haircut can make you look ten times better by highlighting your most excellent facial features.
The hair of professional cheerleaders is let entirely loose. Choose a shade that complements the tone of your skin. You should consult a professional to ensure that blonde hair, or any red or strawberry blonde tones, is done correctly.
---
6. Prepare your Dance Technique
Being a cheerleader requires dance skills. Most NFL franchises do not need cheerleaders to have years of dancing experience. However, knowing how to dance well is a benefit.
Consider enrolling in dance classes that offer a variety of dance lessons, such as Hip-Hop, Jazz, and Ballet, if you are not an expert dancer, so you can master the fundamental cheerleader motions and quickly pick up choreography for each audition round.
You will also be required to perform your routine during a section of the trials. It will be easier to be imaginative with your freestyle performance if you have a strong dancing foundation.
---
7. Prepare your Mind
The interview phase of the audition process is crucial. You'll be evaluated on your physical strength, looks, dancing skills, team knowledge, and how you reply to questions.
Teams include an interview part in their auditions because they need to gauge how a candidate would act in a media interview. Professional cheerleaders frequently appear in the media. Thus they should be able to speak persuasively and sound knowledgeable.
The judges will also be interested in learning more about your personality and interests. Learn about the league, research your dream team (history, personnel, significant moments, players), and peruse news websites to understand what's going on now.
---
Tips for Audition
The NFL auditions are one of the most competitive sports auditions. To be even a consideration for NFL cheerleader, you must pass a series of interviews, outfit fittings, dance sessions, and several tryouts. 
The following are the tips that you will need to pass your auditions successfully:
Try to wear colors that

compliment your skin tone

. You don't want to look

washed out

on the most important day of your career.

Wear makeup according to your

facial features and skin tone

.

Your attitude should be

cheerful

. You don't want to look like a

problematic snob

to work with.

Try to look different from hundreds of other candidates with your

outfit and appearance.
---
Skills to Become an NFL Cheerleader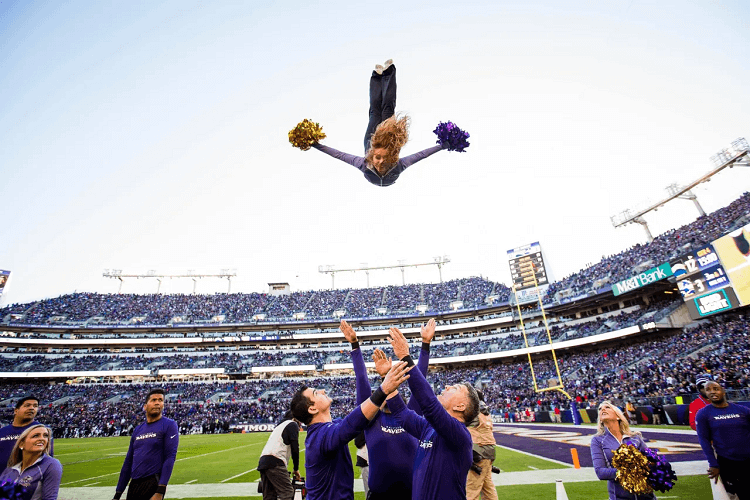 If you want to become an NFL cheerleader, your skills matter the most. The following are the skills that you need to become a successful cheerleader:
1. Leadership
Leadership skills are the primary skills that every NFL cheerleading candidate must possess. Leadership skills allow cheerleaders to motivate their team and also help them develop their skills.
Cheerleaders lead their teams in practice sessions and NFL games. If you have leadership skills, there are high chances that you will become captain of your squad and advance in your career.
---
2. Organization
To be a successful cheerleader, you must have organizing skills. Cheerleaders must keep track of their schedule, practice times, and other important stuff.
Cheerleaders also have to plan their schedule around the team's schedule. They also need to know the whereabouts of their cheerleading uniform, pom poms, and other equipment.
---
3. Public speaking
Public speaking skills are critical to becoming a successful cheerleader because cheerleaders are required to speak in public events, such as fundraising and charity events.
Public speaking skills also help them when interviewing for the squad and making an official television appearance.
---
4. Teamwork
Teamworking skills are essential for every cheerleader because they have to work with many people. Cheerleaders often need to collaborate with the team's dancing squad and the rest of the football team.
In addition, they also need to work with the football team's coaches to understand the steps they need to take according to the events on the ground. 
---
5. Communication
Giving others information is the act of communication. Cheerleaders connect with their teammates, coaches, and spectators using their communication abilities. They utilize these abilities to organize and carry out daily routines.
---
Most Famous NFL Cheerleaders of All-time
To become an NFL cheerleader, you must have a role model who made it to the top of the cheering squad against all the odds. The following are the most famous NFL cheerleaders of all time:
1. Stacy Keibler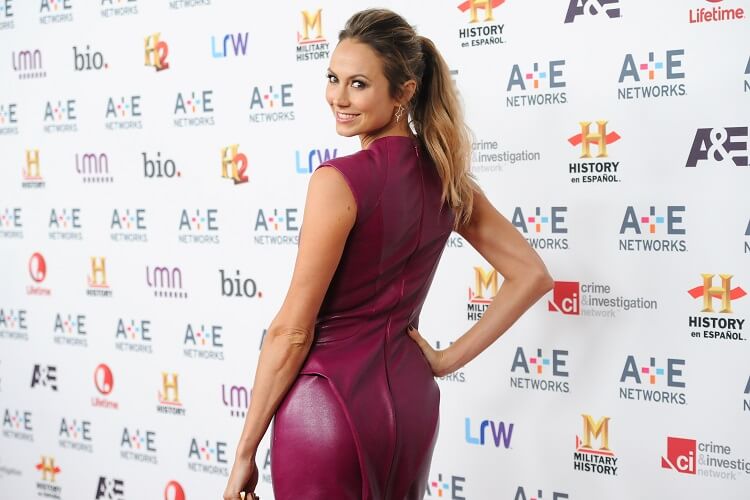 Stacey Keibler is notorious as a part of WWE and a girlfriend for George Clooney. However, before all that, she used to be in a cheering squad for Baltimore Ravens.
---
2. Teri Hatcher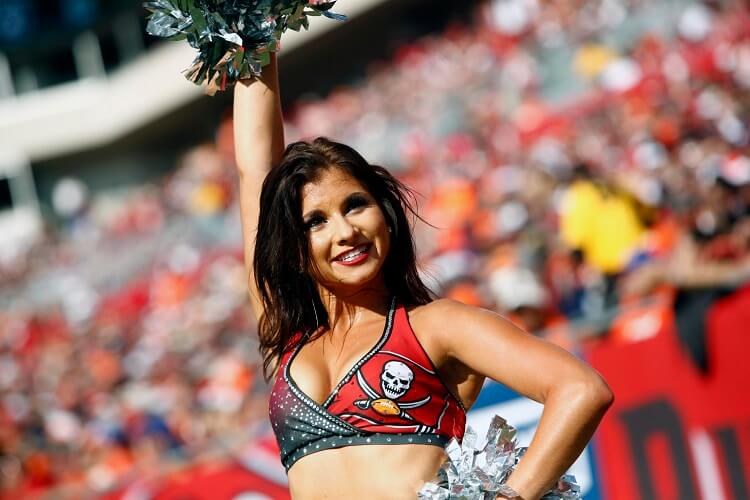 Teri Hatcher is an American actress famous for her role in Desperate Housewives and Lois Lane. However, before being an actress, Hatcher was a cheerleader for Joe Montanna and the San Francisco 49ers in 1984.
---
3. Lisa Guerrero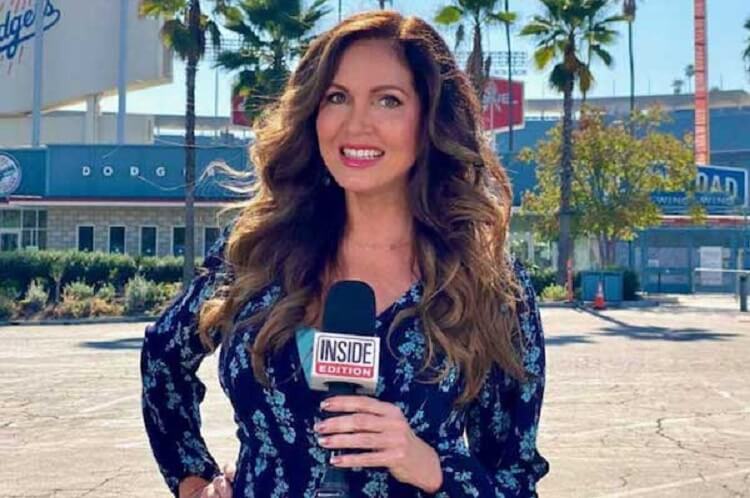 Lisa Guerrero used to cheer for Los Angeles Rams. Later she made her career as a sideline reporter for Monday Night Football.
---
4. Charisma Carpenter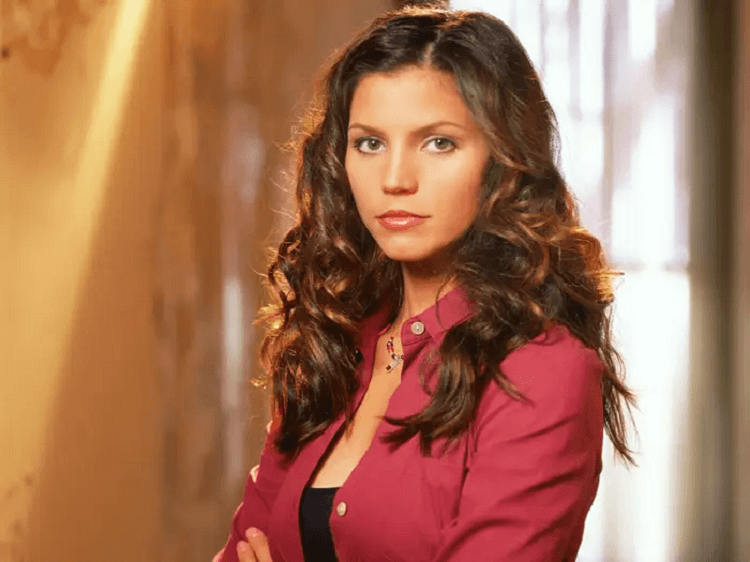 Charisma Carpenter is famous for her role in Buffy the Vampire Slayer and Baywatch. She used to cheer for the San Diego Chargers.
---
5. Camille Kostek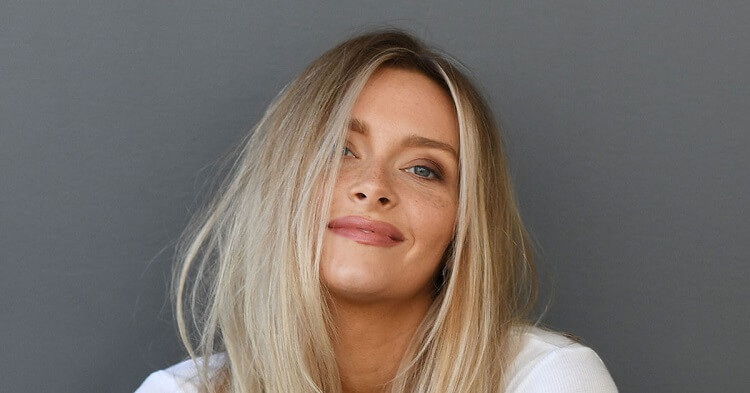 Camille Kostek is an American model, film actress, and television host who used to cheer for New England Patriots.
---
FAQs- become an NFL Cheerleader
How to become a successful NFL cheerleader?
To become a successful NFL cheerleader, you must have a good grasp on your dance steps, a ton body, a positive attitude, and excellent outfits and makeup. To get more detailed insight, read our blog.
How much does an NFL cheerleader make?
NFL cheerleader salaries are lower than you may imagine. The cheerleaders often make $150 per game. This equals $22,500 a year.
Can you become an NFL cheerleader if you have tattoos?
The NFL cheerleaders are not allowed to have body piercings or tattoos on their bodies. If you have any of them, you must remove them before appearing for the interview.
Can an NFL cheerleader date an NFL player?
No, the NFL cheerleaders are subjected to specific rules which prevent them from mingling and having relationships with NFL players.
---
Conclusion
The National Football League is the most watched football tournament in the United States. To be a part of the NFL cheerleading squad is the dream of all aspiring cheerleaders. NFL cheerleaders help to create a positive image of the NFL franchise.
However, it is not easy to become an NFL cheerleader. There are several prerequisites to being a part of the audition for the cheerleader. But don't worry; in our blog, we have discussed all the details and inside knowledge, you require to become a successful NFL cheerleader.